Writing
"You can make anything by writing."

– C.S. Lewis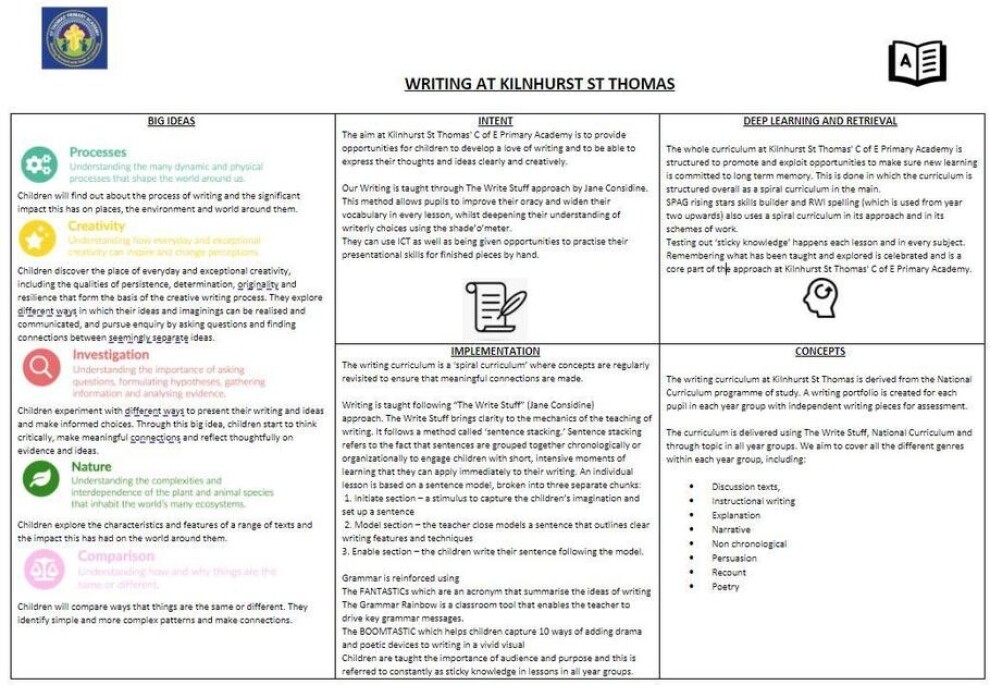 At Kilnhurst St Thomas' Primary Academy, pupils are taught writing skills in regular writing lessons underpinned by the National Curriculum.  
Link to the National Curriculum
We have adopted "The Write Stuff" by Jane Considine to bring clarity to the mechanics of writing.  "The Write Stuff" follows a method called "Sentence Stacking" which refers to the fact that sentences are stacked together chronologically and organised to engage children with short, intensive moments of learning that they can then immediately apply to their own writing. 
An individual lesson is based on a sentence model, broken in to 3 learning chunks. Each learning chunk has three sections:
Initiate section – a stimulus to capture the children's imagination and set up a sentence.
Model section – the teacher close models a sentence that outlines clear writing features and techniques.
Enable section – the children write their sentence, following the model.
Children are challenged to 'Deepen the Moment' which requires them to independently draw upon previously learnt skills and apply them to their writing during that chunk.
"The Write Stuff"  uses three essential components to support children in becoming great writers
The three zones of writing :-
IDEAS -  The FANTASTICs uses a child friendly acronym to represent the nine idea lenses through which children can craft their ideas.
TOOLS - The GRAMMARISTICS. The grammar rules of our language system and an accessible way to target weaknesses in pupils grammatical and linguistic structures.
TECHNIQUES - The BOOMTASTICs which helps children capture 10 ways of adding drama and poetic devices to writing in a vivid visual.
An overview of the Write Stuff approach
Pupil voice
What do you like about writing?
"Use imagination to create anything, moving hands and keeping busy, different styles of writing, creating the events that happen, ideas from elsewhere,"
"I like to draw words, write new things about characters, doesn't matter if you get it wrong, like writing about the Gruffalo, you can write whatever you"
"You can let your imagination run wild and write anything you want. There are no rules when you are writing. You get to choose what happens. I like it"
Parent voice
What does school help to support your child with writing?
"Encourage them in class"
"Workbooks "
"He has support with his writing"
Handwriting
At Kilnhurst St Thomas' Primary Academy, we follow the Nelson handwriting scheme. The programme begins as children start to form letter in Early Years and continues to develop throughout each key stage. Once children are forming letters clearly and accurately, we begin to focus on making accurate joins, ensuring that writing is legible and all lettering is formed at the correct size. 
How to introduce the four types of joins in cursive handwriting
Nelson Handwriting author, Anita Warwick, provides a short cursive handwriting tutorial demonstrating the four types of joins using Nelson Handwriting.
Further Information on Nelson Handwriting
Please click on the link to find out more information about what children will learn in each year group and how parents/ carers can support their child at home.
Spelling, Punctuation and Grammar
Spelling and Punctuation
As part of our commitment to continually improving standards and attainment for all children we have implemented the Read, Write, Inc Spelling programme to boost standards in writing, grammar and spelling.
Read Write Inc. Spelling is for children in Years 2 to 6 and embeds the national curriculum spelling skills using direct teaching in short, daily spelling sessions. 
The children take part in bite-sized lessons that build knowledge cumulatively. 
Three friendly aliens introduce the spelling rules on an exciting online spelling planet.  There is a lot of emphasis placed on partner and oral work to ensure children fully grasp the spelling concepts.  The children also have their own practice book that provides a range of activities to enhance understanding.  
The programme also provides teachers with the opportunity to assess progress each half term and ensure children are understanding the spelling rules and filling the gaps in their knowledge.
Read Write Inc. Spelling: an introduction
Read Write Inc. Spelling, for Years 2-6 (P3-P7), has been created to meet the more demanding spelling requirements of the 2014 English National Curriculum.
Grammar and Punctuation
At Kilnhurst St Thomas' we also have discrete grammar and punctuation lesson using Rising Stars Skills Builders to structure our lessons. 
Whilst taught discretely, children are encouraged and expected to apply their learning in these lessons to their writing, in English and across the curriculum.
Skills Builders
Skills Builders offer a fun and active way of teaching, learning, practising and revising all of the technical English requirements of the new curriculum! Find out more at www.risingstars-uk.com/skillsbuilders
Skills Builder Example